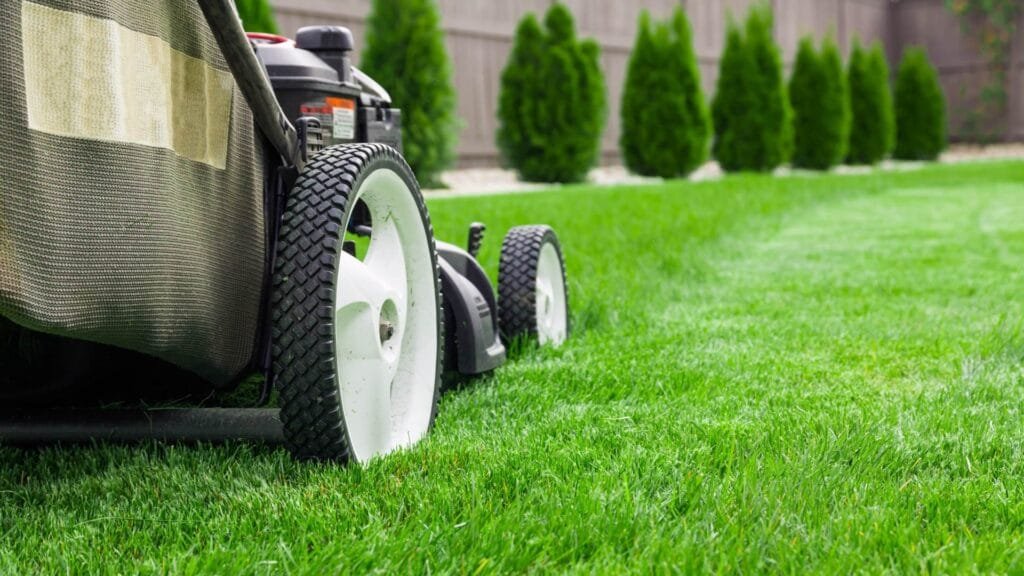 While mowing may seem simple enough, there are some tips and tricks Eddy Andrews suggests we follow to ensure you're not stressing your lawn or missing any spots. You'll want to start with moving any obstacles out of the way that could block access to parts of the lawn so that you can achieve a full-coverage mow. As you mow, make sure your mower is aligned so that the clippings being shot out of the mower are not being shot towards any obstacles or structures. If need be, place a bagger on your mower in areas with obstacles within 15 feet of each other to keep the clippings in line.
Eddy's top tip – WHEN MOWING, MOVE OBSTACLES OUT OF THE WAY AND MAKE AT LEAST TWO PASSES ON THE LAWN FOR FULL COVERAGE.
You'll want to make at least two passes, and to create striping, make these passes align at a 90-degree angle to create that beautiful checkerboard look. If you need to make a three-point turn, turn right first and then go long in the direction that you're mowing, either right or left. If you're passing back through an already mowed area, be sure that you are driving in the same direction as the original mow to not mess up your striping!
Eddy Andrews reminds us to consider our safety first!
Edging and trimming are the tasks that will take your lawn from looking good to looking great. Edging is a vertical cut to the lawn that creates a clear border between the lawn and other areas, like landscape beds, driveways, sidewalks, and patios.
Once you're done mowing, edging, and trimming, it's time for cleanup! You'll want to blow off all the hard surfaces, even if it doesn't look like any clippings or debris got on them, including:
Driveways
Sidewalks
Porches
Patios
Streets
Landscape Beds
Houses
A/C Units
Cars
If you want a quality lawn, contact Eddy Andrews, Brisbane's best handyman services.